Pictures & Words
Who the heck would have guessed that this would morph into a music blog? This past Thursday, my good friend Mike and I took a trip up to the venerable Shank Hall to Thomas Dolby's "The Invisible Lighthouse Tour". This show was fascinating: it's a combination of a film that Thomas has made interwoven with live music and a live foley artist (a 'sound effects' guy, Blake Leyh). The movie is an fascinating narrative of Dolby's life (and his family history) centered around the British coast. The central subject is a lighthouse that's been lit since the early 1700's—but it's being closed down by the government.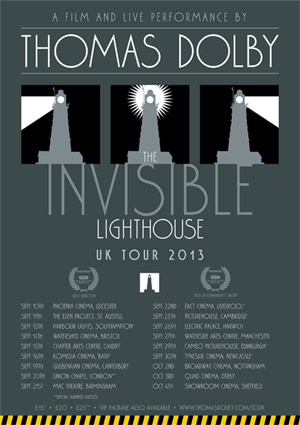 The show was really excellent—a great blend of music, storytelling, visual and sound effects—it was a unique experience. What was nice about the evening was that there weren't more than a hundred or so at Shank Hall, so it was a really intimate show. When the movie was done, Thomas brought up the house lights and he and Blake spent about 20 minutes discussing the sounds and movie—how it was made, why he did it, and how he feels that movie making is on the cusp of a revolution similar to the self-production and distribution by music artists today. They then took about 15 minutes of question and answers from the crowd. Thomas then meant to play an encore, but that was delayed somewhat by equipment needing to be reset—Blake took over for a while and showed the crowd all his sound effect tricks that he was using during the movie. When Thomas got his groove back together, he rocked the place with some old standbys (Hyperactive, Blinded Me with Science, etc.).
The tour is heading through Denver and then out to the west coast. If you get a chance to see this show, do so! The experience is unique, and shouldn't be missed!