So, after a good nights rest and a bite to eat at Cafe Sol in Springdale, we headed out to do some more exploring. Rick decided to drive along Kolob Terrace Road again, going a few miles north of where we were the previous afternoon. We explored a dirt road (1) that went into a cool valley, but there were eventually gates and private property signs. We got out and looked around, but didn't go any farther.
But from another dirt road (with another gate, 2), we decided to take a few shots of the surrounding countryside. This is a cool area, basically south of Kolob Canyon and north of all the 'usual' part of Zion that people visit. A nice combination of some forest and sandstone.
From (2) we jumped back into the car and starting driving up the road. A little way later, I saw an area that had some water on the side of the road with some nice open forest area, so Rick stopped the car at (3), and we started to explore the area.
Rick and I were on the same page; we wanted to do a little hiking and explore some of the terrain around this area. It was a great morning for a walk, beautiful sun and nice moderate temperatures. The shot below was basically pointing back to the park (south).
And on the left side (west), this is Firepit Knoll—it's a old cinder cone that flooded this area with some basalt about a quarter million years ago. Basically when Rick and I were young...
Hiking through some nice flats of sandstone, towards these sandstone buttes. One of these is called Jobs Head, according to the topo map.
These flat areas were really cool, and there was water flowing. As I figured out later, it's probably melt from higher elevations. We got up to Kolob Reservoir but we were turned back because of snow on the road. Elevation changes in this area really matter. The Virgin valley was beautiful and very spring like, but the higher we got, the more it looked like late winter.
I find it hard to judge scale on some of these formations, so here's a close up of a little valley in the formation.
Awesome dead trees around here!
Again, I never get tired of all the crazy things that happen to sandstone out here. These ridges are completely awesome.
The next four photos are courtesy of the iPhone. Rick and I were kidding a bit about phone photos, but we took a lot of photos with ours, and several came out very good. It's also nice to have video along for the ride.
Here's a photo processed with the classic 'Foveon Blue'. This reminds me a bit of one of Dick Merrill's early photos with an early version of the Foveon chip—the totem pole shot (probably British Colombia). As a point of reference, some of these were shot with the trusty 50 mm macro.
What would a trip be without my constant traveling companion, Bat-Domo? For those fans of the 2010 trip, you'll remember that Valentine Domo was featured prominently in several photos. Valentine Domo met the wrong end of a dog (the bitey part), so I dragged Bat Domo along on this trip. This photo was taken with Rick's fantastic 50 mm f1.4.
This just scares me. When I was looking up these areas on Google Maps, I was wondering if I could find features like this fallen log. Yup. No problem, in fact.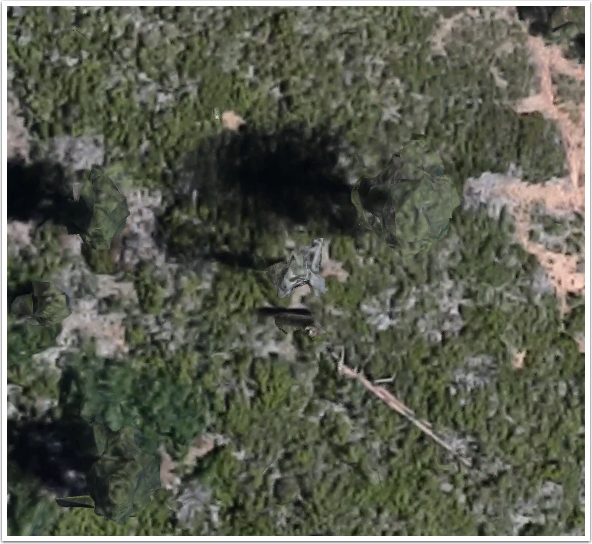 A shot out west, looking at Firepit Knoll.
This was the most awesome chunk of wood we found on the trip (and there was a lot). Looks like a wizarding dragon to me!
I like it better in black and white.
As we were hiking back, we ended up a bit east of where we started. I heard a waterfall somewhere, so we hiked down and found this stream, aptly named Little Creek. Not the most unique name, perhaps. In fact, in grad school when Jen and I were living near Rio, WI; we lived on Mud Lake. The only issue? There were about 5 Mud Lakes on the topo maps in that area… 
Rick had a bit of excitement crossing this, a rock tipped on him and he went horizontal. He did a nice job holding his camera out of the water, and I was able to help him out of the drink. 
Probably my favorite shot from this area.
Taken straight up this dead tree. Awesome, and great color!
With this, we made our way back to the car. Grabbed some apples and energy bars and started a drive to Kolob Canyon.