We were a bit lazy Monday; no need to get out at the crack of dawn to do magnificent sunrise stuff, mainly because Arches main road is closed between 7 pm and 7 am for construction during this year. It sucks for photographers! Kendall brought his wife's Jeep Cherokee; a sweet older ride. We decided to do some off roading to get up to the back side of the far northwest corner of Arches (Klondike), to hike and explore around there.
The off roading was super fun—although we would have been much better served with mountain bikes if we had wanted to make great time. This place is apparently a mecca for mountain bikers, with lots of great trails and some fantastic scenery. If you look at the below map, you'll see all the white stuff to the left side—that's what we Jeeped up. There were some really well marked trails, and as I mentioned, we had a lot of fun. The places where the arrows are is where we hiked to, and where our shots our from. What we didn't realize before we left is that there's no really good way to get down into the sandstone (the bluffs)—that stuff we were perched on is a couple hundred feet above the floor (at least), and we didn't see any easy way down (by easy, I mean that we would live to tell about it).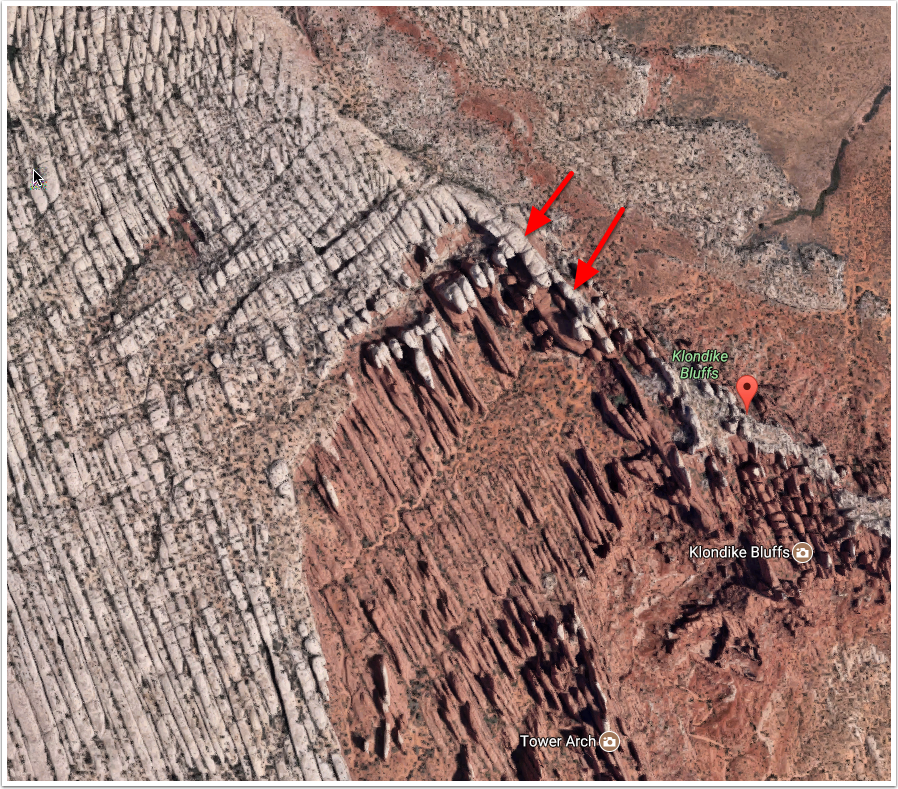 So, the trip up gave us the opportunity to get some nice cactus shots.
The obligatory 'Domo in a cactus' shot, made famous by the 2010 trip.
When we parked the Jeep, we made our way to some old mining stuff...
So, the light was pretty crappy. Overcast, lots of atmospheric haze. And wind. Holy crap, was there a lot of wind! We're talking between 20-40 mph wind up top here. This is our hike in; to the left side is north, and to the right side is Klondike. The white stuff is what we'll be climbing on, and as you can see, no easy way down to the valley (well, easy AND survivable). La Sal mountains are in the background.
Kendall is set up for shooting, and we're now looking into Klondike. I had a lot of fun actually shooting my fellow photographers—this scenery is somewhat chaotic up here...
A view looking over Klondike, at the La Sal mountains.
One of the issues up here is the world is not straight...
The aforementioned Kendall, falling off of the world.
An overview looking south, back into Arches. The wind was really whipping around up here!
And I happen to really like the B/W version
This was truly a great place to explore, we were just bummed that we weren't able to get down into the park from our perch.
And Rick is working hard for his shots as well...
And with that, we headed back down to the Jeep to head to Canyonlands for some afternoon shooting.