So, as I mentioned in the previous post, there was no rooms in Death Valley for us to do Rick's itinerary. We made our way from Las Vegas to Zion, and after a brief delay of overshooting the turn (I was driving…), we headed into our first destination for the afternoon, the Kolob Canyon Visitor Center (1).. This was my first time here. Rick and I had done a bit of shooting in Zion in 2010, but it was off of route 9 on the way to Bryce. We got in around 1:30 pm, so clearly the sun was going to be challenging for creating keepers; however, we did have a bunch of puffy-fluffy clouds (the non-technical term for cumulus) that would give us some nice light.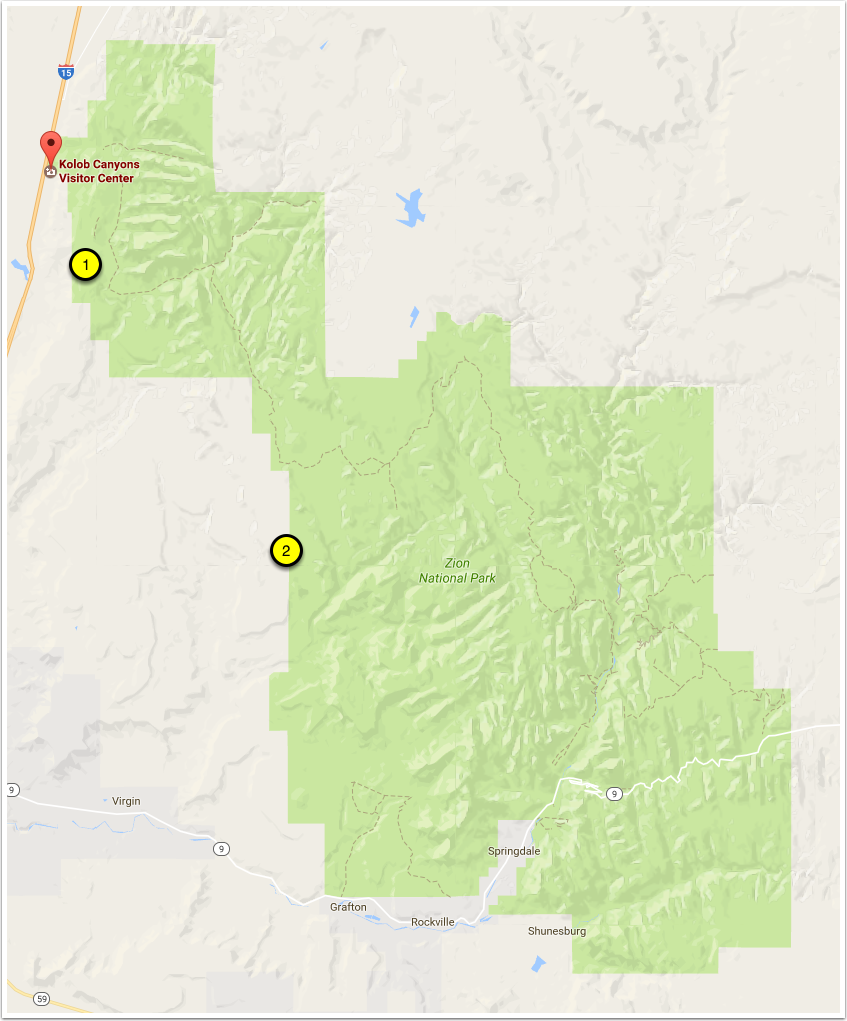 The parking lot at Kolob Canyons. See the beautiful sandstone in the background.
After driving down a windy road for a bit, we got out and did some photography. Rick says this valley was made famous by some photographer, but I couldn't find it with my exhaustive 45 second search of the inter webs. It is a beautiful spot!
This tree was taken with my 85mm lens. It does great portraiture, although the subject is a bit wooden...
At this point, we were getting some nice shadows from the fluffy-puffy clouds.
A little 'hanging valley'. I doubt many people have gotten there—it would require some extensive climbing (or ropes to drop in from the top, and then drop down below). Note the coloring of this lens (70-200) versus the coloring of the 50 macro (below).
50 macro. Note the cooler tones than the warm 70-200 above.
Rick Decker using a rail as a stabilizer.
So, from Kolob Canyon, we drove south on Rt 9 to Virgin, and hung a left on Kolob Terrace Road. This road goes in and out of the park, and eventually leads to the fairly high altitude Kolob Reservoir (at 8100 feet). We didn't go that far today—we got to the Kolob gate of Zion and took some scenic photos of outhouses and other interesting landmarks.
Gotta love these clouds!
One noticeable thing about the gain in elevation—trees were not close to leafing out at this 8000 foot elevation. In the valleys, everything was beautifully green. It's my guess that this area has had a cold and wet spring.
After doing that site seeing, we turned around and headed south to a place that Rick wanted to check out. This area is just south of Cave Valley, and is actually outside of the park. We parked off the road (at 1), and headed north (along the wash) to get over a steep, brushy little area. Rick said that there was a shack there—but I didn't believe him and we didn't find it. But 2 marks the spot on Google Maps, so we'll have to go back so he can tell me that he told me so! We did hike across the open area (east), spotted a narrow and deep canyon (3), and then Rick headed off to photograph in area 4, while went south to play on the sandstone of area 5.
This is the view of the area that we're hiking towards.
This  yucca reminds me of cousin It.
I just love the texture and erosion of the sandstone in this area. It's amazing, and this stuff is relatively sturdy to climb on, so I don't feel so bad. South Coyote Butte (2010 trip) was very fragile in spots; you had to be really careful about not damaging the stone.
There were a lot of flowers around here!
This is a shot taken through the north end of that valley (canyon), with the rest of the southern park exposed in the sunlight.
Once we got up on top of the sandstone ridge, we had a delightful look into Lee Valley. I used to order stuff from Lee Valley, but I don't think the fulfillment center lives here!
The northeastern view. There's a waterfall in that mess of stuff in the middle!
Taking out the 70-200 to isolate that big ridge in the background of the previous photo (far right side).
This sandstone was meant for scrambling!
Rick on his perch. The drop down to the bottom of this ridge is about 800', from what I can tell with the topo map. 
Hiking around these formations (south and east for me) gave me some nice views...
You can see the falls just left of the center of the photo. Great light coming through these clouds.
This is a section that I actually had to climb. Not scary, but had to throw the camera in the backpack.
A cute mini-arch.
Looking south through the valley. The big peak in the center is South Guardian Angel. I'm loving Google Maps for identifying this stuff.
South (and closer to where I am), Tabernacle Dome
Light is starting to get good. The sun started to move across Lee Valley
Pointing northeast. Nice lighting!
Rick and I were scrambling to follow lighting opportunities. And speaking of opportunity, we had lots of dead tree opportunities during this adventure!
I waited in this spot for the light to hit the sandstone formation in the middle. The sun was a bit too low, and then a big cloud wiped this out. I had about 20 seconds to get this photo...
and then the light moved. This is basically the same shot! It looks quite different with the foreground lit.
At this point, Rick and I were satisfied that we had exhausted the possibilities and light up on this ridge, and packed it in to get a room at Zion. This was a great start to the trip; we got to explore some uncharted territory! We'd end up doing quite a bit of that over the course of the seven days! To see this gallery with full sized images, go to the Utah Galleries page.