Pictures & Words
Intrepid blog readers may remember my first and only music review: a glowing recommendation of dada's 20th anniversary concert in February of this year. I mentioned that if you get a chance to see them—make the time. They're a great group of very talented musicians. I also mentioned that I didn't take Grace along last time because I wasn't sure about the 21 and over policy at the club. 
Imagine my delight when I found out a month ago that they we're going back on the road to do a reprise of the 20th anniversary tour, and that Shank Hall was the first stop of the tour (out of California, at least). I was a little bummed that 7Horse wasn't opening up for them (that's Phil Leavitt and Joie Calio's project), but I was exceptionally excited that I could drag my daughter along to the show. I invited Max as well, but he was working that evening. Make no doubt—getting to see these guys twice is a highlight of my 2013, and seeing a band with my daughter—priceless!
We got to the show during the set for the opening band: Mojo Perry. I had never heard of these guys—of course, the bands that I haven't heard of would fill a very large book—but they were rocking the house! Electronic/Acid rock with a heavy blues influence—these guys were really talented and I'd drop in to see them headlining if I got the chance. Grace and I were looking for a place to sit; Shank hall wasn't full, but it had a decent crowd for a Thursday night. This guy motioned to a couple empty chairs around his table, so we gratefully accepted and sat with him. We got to talking after Mojo Perry's set, and it turns out that Dave is a cousin of dada's drummer (Phil Leavitt). He lives in Northern Illinois, not very far from where I work. We had a great time chatting about the band, about work, about kids—he's a really nice guy and made the intermission time fly by.
dada took the stage—and once again were in really great form. Dave mentioned that they hadn't done a lot of rehearsing (colds running around), but they sounded great to me. In fact, I think they sounded better than the time in February—the show was mixed better to deal with the vocals. Michael Gurley was hitting the high stuff and playing a great guitar, Phil was doing an amazing job on drums and doing more vocals than I remembered last time, and Joie was terrific as well. Grace and I got right up to the stage (she provided the photos), and they played a hell of a set. Some different numbers then February's playlist, but all the old standbys. They closed with Grace's favorite (Dizz Knee Land). In fact, they played all my favorites except the aforementioned title (A Trip with my Dad).
As a treat, Grace and I got to briefly meet Phil (thanks Dave!) after the set was done. We would have hung around longer, but Grace's back was giving her fits, and I figured it was time to get her home. Dave had felt a little bad that we didn't actually get to hang out with the band post-show—so he gave me a call at work Friday morning (wake up!) and mentioned that he was going to see the guys again at Park West in Chicago, and would try to score something for Grace.
So, what a cool trip! Dad and daughter got to see a great couple bands, and we made a friend beside. Pretty good for a Thursday evening in Wisconsin!
And if anyone is reading this blog thinking if they should go to a show in their locale—just down a vodka and gin and do it…
Photos courtesy of Grace's iPhone.
It's been forever (over a quarter century) since I last saw an NFL game—I saw the Eagles when I was in grad school, and the Bills when I was in high school. So interestingly, Jen and I and Max and Grace all got to see NFL football today. It was interesting in the fact that Jen and I got to see the Pack play the Browns (thanks Peter and Mary)—and the kids got to see the Patriots play the Jets. Max is a huge Jets fan, and Grace is a Patriots fan. They took a road trip on Friday—stopped to visit my family in Rochester, and then headed down to the Meadowlands to catch the game.
Jen and I had an awesome time. Weather was semi-miserable (raw, light-to-moderate rain, and a 3:30 pm start), but the Pack played pretty impressively, especially for missing a lot of key players.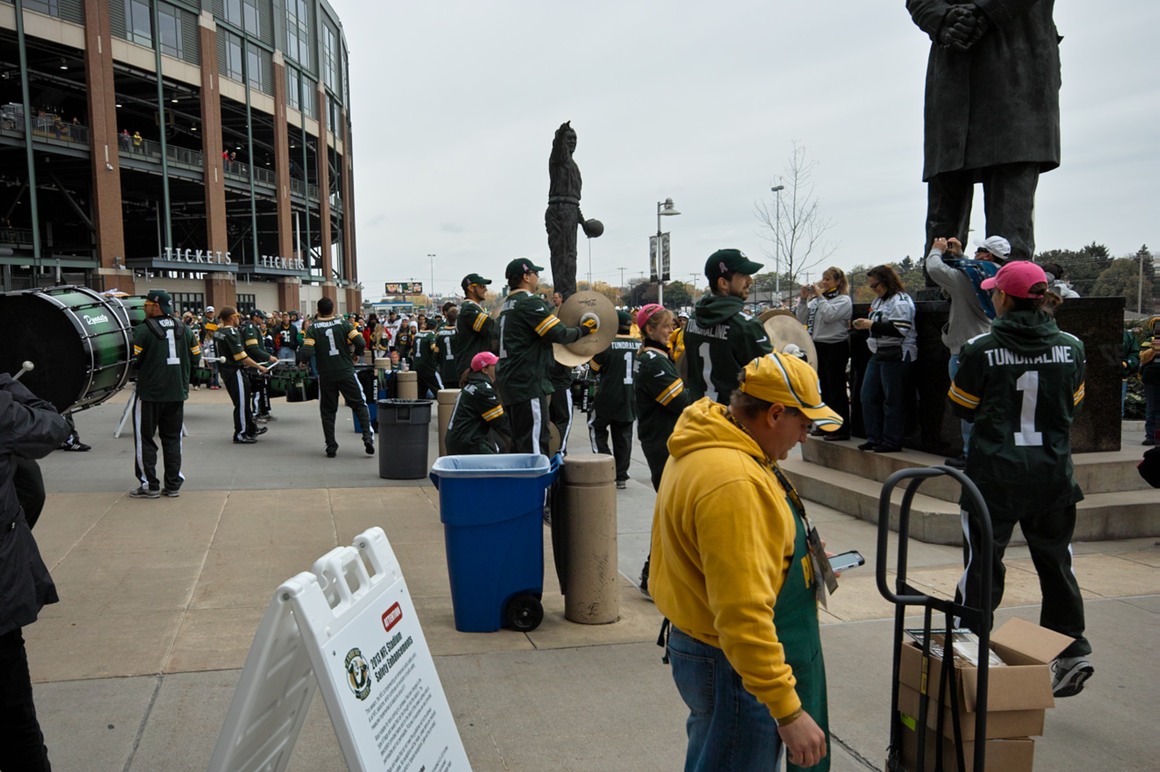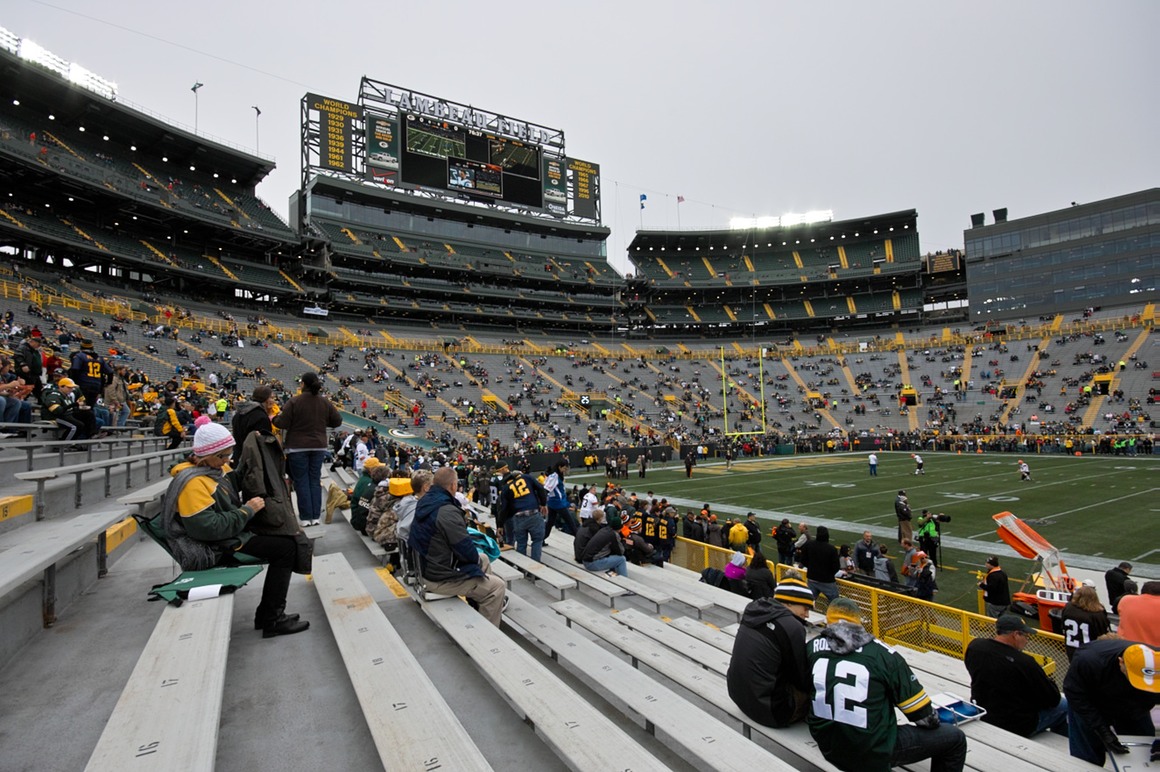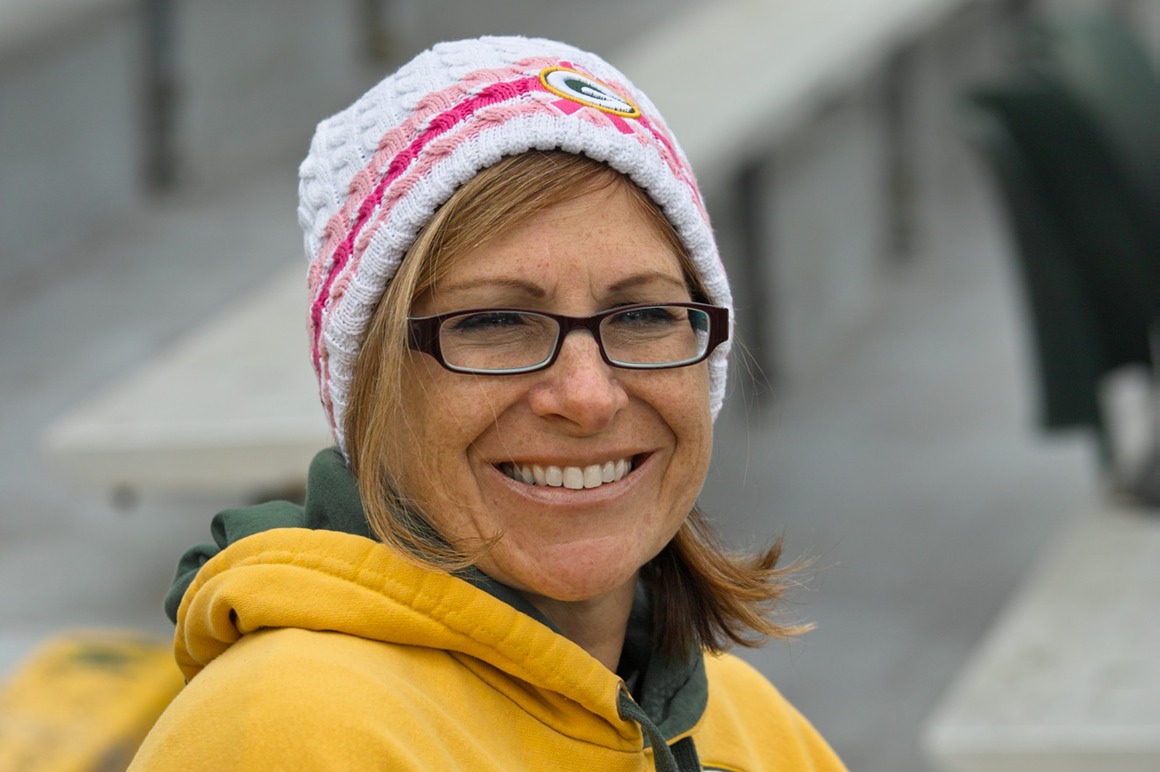 I can't go without showing a dog photo. This is some mangy mutt from Cleveland...